Faculty of Military Health Sciences started the 2020 graduation ceremony in the premises of Charles University Medical Faculty one hour past noon on 28 July by the graduates lined up there and by the national flag brought inside by two guards at the tones of a historic chant.
Official speeches were presented by Faculty Dean prof. Pavel Boštík and university vice-rector Colonel Luděk Jedlička. Along with them, the VIP guests present to the ceremony included Colonel Jana Fajfrová, ACR Chief Hygienist, Jaroslav Danek, Ministry of Defence's Human Resources Directorate Director, Brigadier General Zoltán Bubeník, Military Health Service Directorate Director, Colonel Jaroslav Král, former University of Defence students regiment commander, Ivan Je5ábek, deputy director of the curative and preventative care of the Prague Central Military Hospital, Petra Marešová, vice-rector for studies and cooperation with praxis of UHK, prof. Hana Langrová, vice-dean for teaching general medicine of the Medical Faculty  HK, prof. Tomáš Šimůnek for Pharmaceutical Faculty HK, Jan Pospíchal, head of the Department of Outpatient vedoucí Department of Clinical Subspecialities of the University of Pardubice Faculty of Health Studies, prof. Alexander Hrabálek, Hradec Králové City Mayor, and H.E. Mons. Jan Vokál, Hradec Kralove Bishop.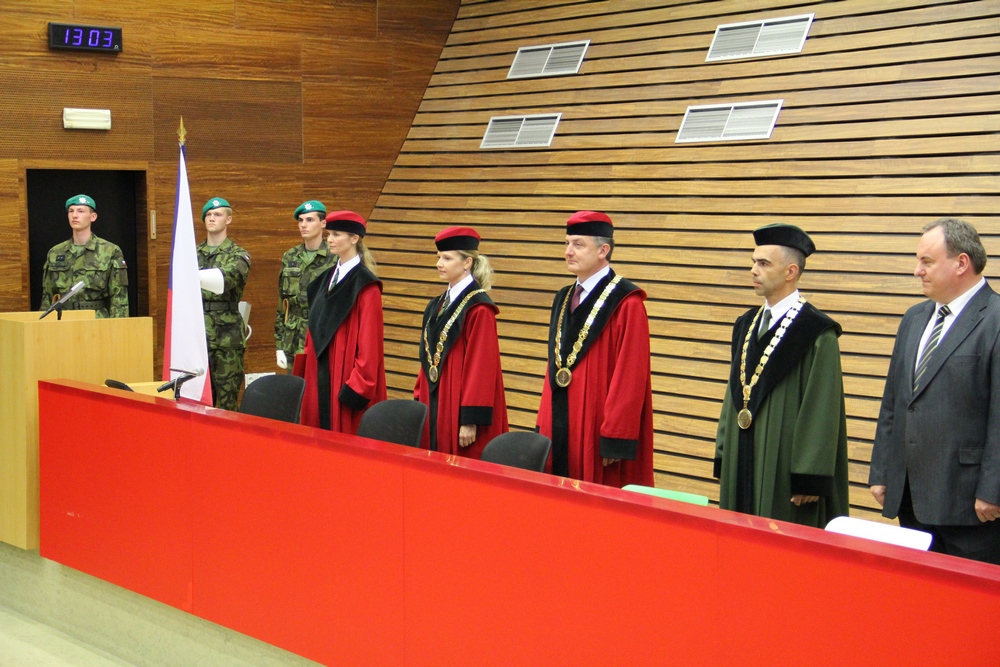 Diplomas and appreciations were presented to the Bachelors who had completed Professional Rescuer studies and to the Masters graduating from Military General Medicine. MUDr. Tereza Bastlová gave a respectable and still funny address on behalf of all graduates. We wish her and all others nice summer and a good start to the real world of work.
Author: Vanda Bostíková, photo Dita Zetochová