Sharing lessons learnt with partners and turning them to lessons applied is invaluable, especially when it comes to higher education institutions. Such opportunity was given to the participants of European Union Military Academies Commandants' Seminar (EUMACS) which took place on Thursday 13 October and was hosted by University of Defence. Rectors, commandants and other academic staff from military universities belonging to countries in European Union worked towards better coordination of cadet and military staff education.
The seminar began with opening and keynote speeches presented by Mr. Holger Osterrieder, Head of European Security and Defence College (ESDC), Colonel Harald Gell, Chairman of EU Military Erasmus Implementation Group, Brigadier General Zuzana Kročová, Rector-Commandant of University of Defence, and finally by Mr. Martin Riegl, Ministry of Defence Director of Defence Policy and Strategy Division. In his opening speech Mr. Riegl reflected on the Ukrainian conflict and the command capability of the Russian army: "I believe the west-oriented intellectual ground, based on critic debate and freedom of speech, is our great advantage".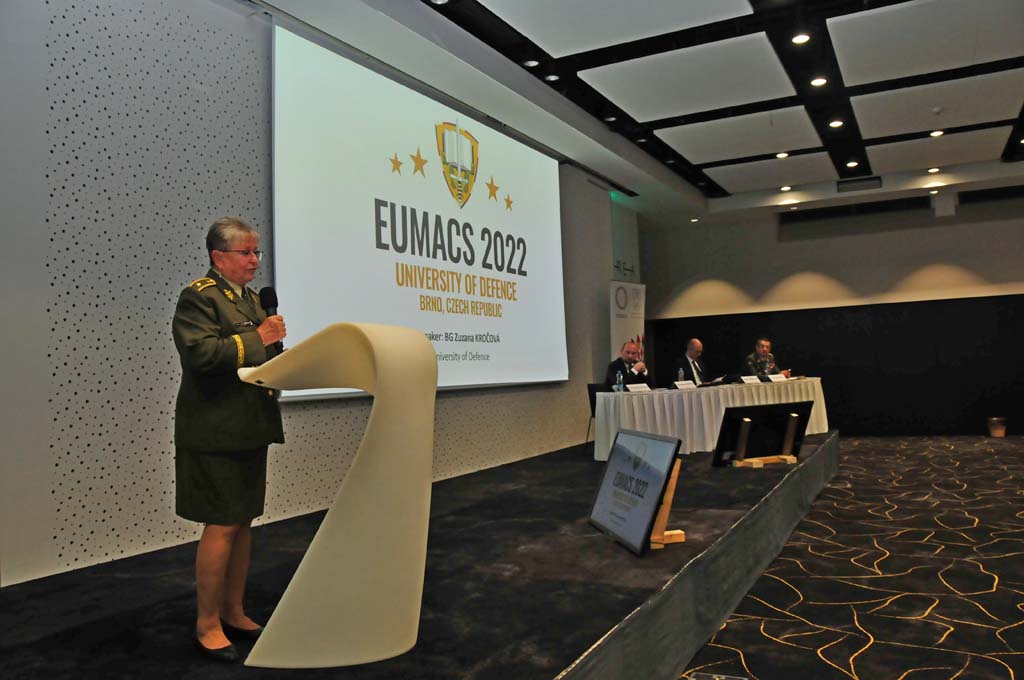 Following the keynote speeches, the representatives from nineteen countries of EU discussed the possibilities to strengthen cooperation in the scientific research activities. The rectors and commandants of military universities emphasized the need to share findings from new and promising scientific areas, which mainly belong to Emerging and Disruptive Technologies (EDTs). Another subject of interest was new challenges of security and the integration of the new phenomena into curriculum and research activities of the military universities.
Finally, when the seminar came to an end, Colonel Pascual Soria Martinez, Commandant of Spanish Air Force Academy, received symbolic stake in the form of wooden hammer as the host of EUMACS 2023 from Brigadier General Zuzana Kročová, Rector-Commandant of University of Defence.